This guide is written for players returning to game after a long absence or new players to the game that have some MMO experience. MMO experience might be necessary because I tell you to skip the tutorial. I wrote this after returning back to Everquest after 10 years of break. The game was so unfamiliar and somewhat changed that I had no idea what was going on and got mad a few times.
The Tutorial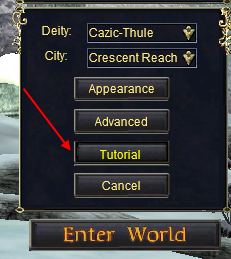 First up is this god awful tutorial. Sure it can help you learn things about the game but by the time you make it through this you won't even want to play the game anymore. Make sure that when you make a new character that the Tutorial Button isn't pressed. It was on by default for me and I thought it was mandatory so I actually quit the game for a few months before I came back again because the tutorial was so much crap.
Getting Platinum
If you're serious about getting back in to the game you can get a lot of platinum pretty quickly (as much as 400k) by spending $18 on a Krono. A Krono is a 30 day in-game gold subscription item that you can trade and sell. Lots of players buy these to keep their monthly subscription going. I sold 4 to start and bought myself a Blade of Carnage for fun, still haven't found a use for it however.
Using the Bazaar
Make sure your account has at least Rain of Fear enabled, which is the 19th of 20th expansion at the time of writing. Having Rain of Fear lets you sit by a Parcel Merchant, scan the bazaar by typing /bazaar, and instantly buying/shipping the gear to that Parcel Merchant.
It may seem small but with all the gear you're going to need leveling a new character, it saves a ton of time rather than running around in the Bazaar to each trader. You can search, buy all your items, and get them from the Parcel Merchant, similar to WoW Mailbox feature.
There's a Parcel NPC in Plane of Knowledge near the small bank that I sit at and buy all my gear.  His name is Caden Zharik and he's outside the building just up the steps.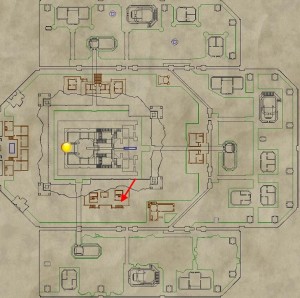 Getting Gear
Back in the day it was hard to level because we had no gear.  So what I would do is kill stuff in Umbral Plains and run my level 1 out to loot it.  I would also put "twink" items on my characters which I already made a list of.  I still put some twink items on my characters like a Fungi Tunic etc, but it's all for show now.
In Secrets of Faydwer they introduced Defiant gear.  Defiant gear is gear for every class/race combo that drops around the world and sells cheaply in the auction house.  You can get this gear at level 10 and the stats are so good that you'll have an easy time leveling.
Here are all the tiers of Defiant Gear.  What I recommend is only coming back to the Bazaar / Spell vendors when it's time to upgrade your defiant gear.   Defiant gear will last you until level 80 and then you'll be able to figure it out after.
Crude Defiant Gear (Recommended level of 10. No required level.)
Simple Defiant Gear (Required level of 5. Recommended level of 20.)
Rough Defiant Gear (Required level of 15. Recommended level of 30.)
Ornate Defiant Gear (Required level of 26. Recommended level of 40.)
Flawed Defiant Gear (Required level of 37. Recommended level of 50.)
Intricate Defiant Gear (Required level of 48. Recommended level of 60.)
Elaborate Defiant Gear (Required level of 59. Recommended level of 70.)
Elegant Defiant Gear (Required level of 70. Recommended level of 80.)
Mercenaries
They added Mercenaries to the game to help you level up early on because you can't find groups anywhere in early levels.  I started off 2 boxing but now I'm 3 boxing, I play a Shaman/Wizard/Shadowknight.
The best recommended setup for my mercs that I read is to have a Caster DPS/Tank/Healer.
Well here's the problem with my setup and that setup.  Early on it's just horrible.  For the rate that I like to level at both my caster dps, and my wizard are constantly out of mana.  My SK is my main.  Not only does he not do any damage, but he can't tank as good as the Mercenary, but the Mercenary doesn't do damage either.
What I've been running then is a Healer/2 Melee DPS.  The Melee DPS are necessary because my casters are always out of Mana.  My SK tanks, healer merc keeps him healed and sometimes I nuke/buff with my Wizard / Shaman.  I thought about adding in an enchanter or bard so I'd have mana, maybe that setup works best.
So when you pick your Merc, if you don't do any damage, don't get a tank or healer merc for yourself, especially if you're solo.  Don't get a caster either.  Get yourself a Melee DPS and keep him healed or assist him.  The melee DPS at early levels is tanking as good as my SK is and I fully twinked my SK out with a Reaver, Fungy Tunic, and a ton of old world items, probably put 500k into him.
There's no one size fit all merc combination.  I've changed my mercs out several times now and I will probably end up with a Merc Tank/Healer/Caster DPS, but I don't need that setup yet.
And yes, there is a huge difference between a J1 and A5 Mercenary.  My J1 Tank was out damaging my A5 Melee Merc.  Don't be a scrub just upgrade to gold
Leveling
Don't bother going back to Old World Zones, the experience isn't worth it.  And don't bother going to Hot Zones just because they are Hot, a lot of them are terrible for experience.  I've been using Almar's Leveling Guide and it works fine.  He has a lot of paths and alternate paths, even platinum farming / leveling guides.
Here's his recommendation for leveling quickly.  It was designed for Free to Play so if you're a gold member with a better Merc this should be way easy for you.
Everquest Leveling Guide: 1 – 4 (Cresent Reach)
Everquest Leveling Guide: 4 – 14 (Cresent Reach & Blightfire Moors)
Everquest Leveling Guide: 14 – 30 (Blightfire Moors)
Everquest Leveling Guide: 30 – 48 (Goru'kar Mesa)
Everquest Leveling Guide: 48 – 55 (Plane of Hate)
Everquest Leveling Guide: 55 – 60 (Crypt of Decay)
Everquest Leveling Guide: 60 – 65 (Bastion of Thunder)
Everquest Leveling Guide: 65 – 70 (PoFire)
Everquest Leveling Guide: 70 – 75/(77) (Dragonscale Hills)
Everquest Leveling Guide: 75 – 80 (Field of Scale)
Everquest Leveling Guide – 80 – 85 (Blackburrow)
Everquest Leveling Guide 85 – 88 (Toskirakk)
Everquest Leveling Guide 88 – 92 (Korascian Warrens)
Your Old Characters Are Worthless Even With AA's
If you want to use your old character, go ahead.  But if you want to start over, you're not really that far behind your old character unless you have an 85+ character.
You can now opt in to receive "Free AA's" as you level up to 85.  At level 85 you'll have about 4000 AA.  Don't think that your gear is good either.  I had full raid gear on my level 70 Druid from Omens of War expansion and when I logged in, I was able to upgrade a lot of my items cheaply in the Bazaar.
So unless you have some unique rare drop, a cool item, or a cool name.  Don't be afraid to start over, you can catch up to any level 85 within a month both gear and AA wise.