Diablo 3 Barbarian Leveling Guide – Fastest Way to 60 and Inferno
Important: If you want to learn the best ways to make gold I highly recommend you visit this site to learn how to maximize your farming, increase your gold making with your professions, and learn the secrets to making 5,000+ gold an hour.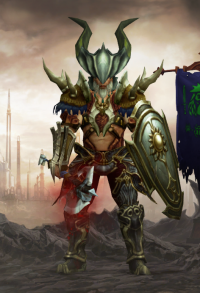 What's in this Guide
After playing the game extensively on my Barbarian and soloing all the way to Inferno I have a lot of leveling tips, advice, and strategy to share with you to help you get through the different phases of the game.
Before I dive into the actual leveling though I want to explain to discuss a few things about the Barbarian that is very important for leveling.
On a side note, don't underestimate how beneficial it can be to buy gear off the Auction House. This will save you loads of time leveling and make it a lot easier to play. For the best gold making strategies in Diablo 3 I highly recommend that you check out this site
* Elective Mode
There exists in Diablo 3 a mode called elective mode that you can utilize while using your skills.  It will allow you to essentially assign any of the skills you want to any of your keys making your builds unique and dynamic.
To get to Elective Mode you will go to Options -> Gameplay -> Interface and check the elective mode box.
This guide is not built using elective mode for ease of use.  But this also means that the game is substantially more challenging and harder because we aren't using elective mode and are limited are skill configurations.  If you want to use elective mode to make the game a lot easier then equip more skills under the section How the Hell Do I Stay Alive.
You can literally have up all of your damage skills at once or all of your health regeneration and leach skills at once, making the game insanely easier.  If you use elective mode, the skill builds in this guide may not be the best that you could use because they are built for non-elective mode.
* Should I use a 2 handed weapon, a 1 hand and a shield, or dual wield?
First off, there's a lot of discussion between what is best for leveling and farming.  1 Hand and a Shield, 2 Hand Weapon, or Duel Weilding.  I will tell you that I've used them all and there are appropriate times to each use configuration especially as you are leveling your barbarian.
I was able to capture most major boss fights on video using Fraps and I'll link them in here when they are appropriate, you will find that depending on the mechanics of a particular fight that different weapon setups as well as skills are not just a leisure they are a necessity.  You will change your weapon setup a lot depending on how you progress through the game, once you are 60 and start to farm you will have probably chosen one setup that works best for you, or, if you're like most players, you'll just have one really awesome weapon setup that you'll use until you get awesome weapons of each type.
* Skill Progression
* Which Follower Should I Use?
I used them all, but in later levels I stuck with the Templar due to his ability to save my butt and to heal me.  You can look at what the others can do for you but soloing as a Barbarian keeping your health up and staying alive is the only thing that matters.
In Act 1 you'll get the Scoundrel, Act 2 the Enchantress, and Act 3 the Templar.
* Do I Need to Use the Auction House?
I thought I'd be a bad ass and not use the Auction House till I reached hell.  This also made my life miserable.  Save your gold up and even sell items on the auction house that you get to get your gold up.  When you find yourself having a hard time, go upgrade your gear.  Your weapon and damage is the most important thing.
I was sitting in the beginning of Hell with a 200 damage one hander then thought I was awesome when I upgraded to 300 from the Auction House.  By Level 60 I had a 1 hander that was doing over 600 damage.  That's a serious damage upgrade and the fights go quicker.  You can upgrade your gear in the same fashion.  There are filters for Vitality and Strength, just remember to keep an eye out for Life Leach stats too they are awesome in these harder modes.
When I entered hell I had looked at my gear and realized I had 6 pieces that were around level 40.  That's just not good business.  Upgrade those pieces of gear that you couldn't upgrade for your own drops!
* What Stats does my Barbarian Need?
For primary stats, you'll want to focus on Strength and Vitality.  If you find yourself dying a lot then you need more vitality, if you find yourself not doing enough damage, then you'll either change your weapon setup or get more strength.  It's a fine balance.  Strength increases damage, vitality increases health.  There are other secondary stats that you can use to get around it and skills.
There are Life Leach stats where a certain percentage of your damage is converted into health for you, there are life for each hit stats, there are life after each kill stats, and there are stats that add how much health a health globe restores to you.  These are usually all secondary stats, I will tell you from experience that the one I've made the most use of is Life Leach to stay alive, where a certain percentage of your damage is converted into health.  Your skills will be the main thing that make up the difference but it's a good idea to focus on these stats and nothing else.
If you are tanking or have decided to go into tank mode you'll focus more on Vitality and things that keep you alive, even protection type stats, but I've found tanking to be situational in co-op, rarely used in leveling solo, but it will be very useful at level 60 when farming inferno for someone to be able to take all the damage.  When you go full tank mode you won't need to produce as much damage in co-op, your job is to stay alive and keep enemies off your teammates.
* How do I kill Elite, Rare, and Champion Enemies?
These things tend to be way more challenging then the actual bosses in this game, below are all of the modifiers or characteristics these groups of elites can have and how to best deal with them.
Arcane Enchanted – Creates an immobile arcane orbs that rotates a ray of arcane. These look like the hand on a clock going around in a circle. The rotating ray does arcane damage.
Strategy: Move away from them as soon as they are placed on the ground.  If there aren't a lot of them, you can stay within range of them but avoid them as they come around in rotation, but these are absolutely deadly for Barbarians you need to not get hit by them, some of them in the later modes kill you instantly.
Avenger (Rare Packs / Champion only) – As you kill members of the pack their survivors grow stronger. Kill them anyways.
Strategy: Heal more, this is almost a non-issue for barbarians.
Desecrator – These guys create expanding void zones that do physical damage when you stand in them. They are relatively easy to avoid.
Strategy: Don't stand in the void zones, you won't have many problems with this either.
Electrified – Shoots several electric pulses that expand outwards and away from their source. These are painful and do lightning damage, but usually go pretty slow.
Strategy: These have had almost no impact even on hell as far as keeping myself alive, I just stand in them and take the damage.
Extra Health – They have 150% additional health and therefore are much harder to kill.
Strategy: Takes longer to kill, use Wrath of Berserker to help.
Fast – These move 40% quicker so they are harder to kite or avoid.
Strategy: The only time this is an issue is when they run away from you into other enemies or they have other attributes that are causing you a lot of damage.  This is where stuns can help or Ancient Spear can drag them right back to you.
Fire Chains (Rare Packs only) – The packs will be linked together with a chain of fire. If you cross that link you will take considerable damage.
Strategy: This is probably one of the hardest things to deal with as a Barbarian.  You need to try to separate the enemies if you can, try to get one away from the other 3-4.  It's nearly impossible to stay out of the Fire Chains if you are fighting three at a time.  One thing to do is to fight them in a stairway or narrow passage so only one can come through at a time and knock them back if they get out of line with Seismic Slam.  Ground Stomp works miracles here as well.
Frozen - Throws out several frozen orbs that expand slowly and then explode. If you're caught in their explosion you're frozen in place for awhile. This is similar to Jailer except Jailer doesn't require you to get caught in the explosion of an orb; they just decide when you're going to get trapped without asking you first.
Strategy: Some bosses have this as well.  The risk is that you'll be frozen and unable to heal yourself while you take too much damage.  Sometimes this is a problem sometimes it's not.  If it's a problem for you, I've used Whirlwind to get away from the orbs on the ground or Leap works well too.
Health Link (Rare Packs only) – The health of the pack is shared, so if you start doing damage to one of them all three will share 1/3 of the damage.
Strategy: I actually prefer my rares to have this attribute then I can kill all three around the same time.  This won't cause you issues unless it's combined with other annoying skills.
Illusionist – Creates Illusions of themselves. This is more annoying than anything else.
Strategy: This can create issues but is mostly harmless.  Use Seismic Slam and AoE Damage to get rid of the Illusions as soon as possible.
Invulnerable Minions (Elite champions only) – The champion will have a group of minions who are invulnerable throughout the entire battle.
Strategy: Depending on whether or not you can sustain the damage from the minions, the best way to handle this is to either skip the enemy or try to pull the boss away from the pack and fight him solo.
Jailer – Create a jail around you, preventing you from moving. You can still cast, heal yourself, etc.
Strategy: Not a big issue unless combined with other annoying things.
Knockback – When they hit you with a melee ability you are "knocked back".
Strategy: Again no issue here most of the time.
Molten – Leaves a trail of fire/lava behind them. If you step in it you take damage. The lava trails do a considerable amount of damage. Their body will explode after they die, get away from them quickly.
Strategy: Stun or snare or ancient spear these things.  Don't chase them.  That's where you run into problems.  Running through the lava directly while chasing them.
Mortar / Grenadier – Launches fireballs at you that explode when they hit the ground. These come in packs of 3 so you have to keep moving. They do a considerable amount of damage.
Strategy: Stand right up on the enemies and gather them together.  Their Mortars are range so if you try to run or are too far away they'll just blow you up, they can't really hit you well if you're right up on them.
Nightmarish – When they hit you with a melee ability (and possibly other types) you are feared for several seconds.
Strategy: Not a problem unless combined with other attributes.
Plagued – Drops areas of poison that do damage when you step in them. These are generally easy to avoid if you're ranged but difficult if you are melee.
Strategy: This creates a massive problem for me I always find myself standing in the poison on the ground.  It's hard but you have to avoid the poison.
Reflects Damage – Frequently reflects damage back at you, this is extremely annoying and lethal if you're not paying attention.
Strategy: No problem here.
Shielding – Creates a shield around themselves, making them immune to all damage. They will continue to attack throughout.
Strategy: This one sucks and creates a balancing act.  You have to hit the enemies that aren't immune.  You'll find yourself dying trying to steal health on immune enmies.
Teleporter – These will periodically teleport wherever they like, if you're a Demon Hunter this is usually next to you where they will proceed to hit you without your permission.
Strategy: No problem unless combined with other things.
Waller – Creates walls, often trapping you in and forcing you to approach them in order to escape. Sometimes these are just straight walls that get in your way when you're kiting.
Strategy: Not an issue unless combined with something.
Vampiric – Absorbs life from you and gains it back for them. This can be a big hassle if your follower keeps taking their bate.
Strategy: Typically not an issue just takes longer to kill.
Vortex – Draws you towards them so that they can relentlessly beat on you. This is terrible when combined with Jailer (for ranged) and even worse when combined with plagued and other abilities that you will be pulled into.
Strategy: This isn't an issue for Barbarians but is for other classes who like to stand far back, I prefer they pull me to them so I don't have to run.
* How the Hell do I Stay Alive?
I have stayed alive and soloing through skills that mainly aid in regenerating or restoring health, and you will probably focus on this too.  Sometimes my entire lineup of skills is something that helps me regenerate health.  If it doesn't do that, it either stuns or pushes enemies away or it increases my survivability stats like armor etc.
In Normal Mode you'll just be learning the game, you won't experience much difficulty no matter what you do but once it starts to get harder make note of the following skills and runes that restore health and their levels.
Primary Skill: Frenzy unlocked at level 11, Rune of Triumph unlocked at level 22, causes Frenzy to heal you for 8% of your maximum life over 6 seconds after killing an enemy with Frenzy.
Secondary Skill: Rend unlocked at level 5, Rune of Blood Lust unlocked at level 19, gain 9% of Rend Damage done as Life.
Secondary Skill: Whirlwind unlocked at level 20, Rune of Blood Funnel unlocked at level 37, Critical Hits restore 1.0% of your maximum Life
Defense Skill: Ignore Pain unlocked at level 22, Rune of Ignorance is Bliss unlocked at level 36, Gain 20% of all damage dealt as Life
Might Skill: Ancient Spear unlocked at level 9, Rune of Dread Spear unlocked at level 32, Gain 60% of damage inflicted as life
Might Skill: Revenge unlocked at level 13 (this skill heals you for 5% of your maximum life for each enemy you hit without any runes) Rune of Vengeance is Mine unlocked at level 19, Increases heal to 8% of maximum health for each enemy you hit, Also want to note that at level 52 you unlock Rune of Provocation which increases the chance of Revenge to become active, this has helped me significantly in Hell and you'll see this as usually a permanent skill and rune combo
Might Skill: Furious Charge unlocked at level 21, Rune of Dreadnought unlocked at level 56, Regain 8% of your maximum life for each target hit with your charge
Might Skill: Overpower unlocked at level 26, Rune of Revel unlocked at level 59, Heals 8% of your maximum life for every enemy hit
Tactics Skill: War Cry unlocked at level 28, Rune of Invigorate unlocked at level 41, increases maximum life by 10% and regenerates 310 life per second while active
Tactics Skill: Battle Rage unlocked at level 22, Rune of Swords to Ploughshares unlocked at level 38, Critical Hits have up to a 5% chance to cause enemies to drop additional health globes
Rage Skill: None of these necessarily heal you but Wrath of the Berserker unlocked at level 30, has been the difference between whether or not I've beaten some bosses in the game.  With Rune of Insanity, you get a 100% damage boost, if you have any type of skills that convert damage into health, then this significantly increases the healing effects of them.
* What Passive Skills do I use on My Barbarian for Leveling?
You will get three passive skills, the first 1 at 10, 2nd at 20, and the third at 30.  As you level up you'll get access to more Passive Skills you can change them at anytime.  The key ones I've used are below for health is just Bloodthirst.
Bloodthirst: unlocked at level 24, gain 3% of all damage done as life
- For Tanking
(1H weapon and Shield focused on survivability and being able to take damage) I use:
Nerves of Steel unlocked at level 13, Armor is increased by 100% of your Vitality
Bloodthirst, unlocked at level 24, 3% of all damage gained as health (I almost always have this one up no matter the configuration I've used, very rarely have I taken it away)
Tough as Nails unlocked at level 30, Increases Armor by 25% and Thorns Damage by 50%
Alternative tanking skills I've actually used for Rare Elites and Boss fights include:
Superstition unlocked at level 30, reduces all non-physical damage by 20%
Relentless unlocked at level 40, while below 20% life, all skills cost no fury and damage taken is reduced by 50%
- For Damage
, this includes 1H and a Shield, Dual Wield, and 2 Hander (yes I've damaged from behind a shield before it gives you a little edge of survivability)
Ruthless unlocked at level 10, increased critical hit chance by 5%, critical hit damage increased by 50% (pair this up with Wrath of the Berserker skill and it makes for some quick fights)
Weapons Master unlocked at level 16, Swords/Daggers increased damage by 15%, Maces/Axes 10% critical hit chance, Polearms/Spears 10% attack speed, Mighty Weapons 3 fury per hit
Bloodthirst unlocked at level 24, 3% of all damage done gained as health (I found myself never giving this up)
Alternatives:
Animosity unlocked at level 27, this one is good and I use it while leveling on regular mobs frequently, increases fury generation by 10% and maximum fury increased by 20
Brawler unlocked at level 45, I didn't like this one at all but I used it some, if there are 3 enemies within 3 yards all damage is increased by 30%
Unforgiving, gain 1 fury every 2 seconds and no longer lose fury, I usually combine this with animosity when I go fury crazy
Battle Rage unlocked at level 20, increases damage by 25% while at maximum Fury.  You could use Battle Rage, Unforgiving, and Animosity all together for some serious damage.
You'll find reconfiguring your character is a necessity, now we go into the leveling section below and you'll see what I did to get to 60.
* Act 1 Normal
- Levels 1-8
There isn't a whole lot going on here, by level 8 you'll only have 3 skills up on your hot bar of the 6 you get total and very few options.  The primary skill you'll have Bash, and then Cleave you'll get at level 3.  I used Cleave over Bash, I've actually never even considered using Bash, except when I didn't have anything else to use.  It just never suited any purpose I needed it for while leveling to 60.
My secondary skill was Hammer of the Ancients because it did a lot of damage and hit enemies hard.  I hadn't found any use for Rend at this point, in actuality, I didn't even consider using Rend much until I needed it to restore health, even still, I found the secondary abilities usually used up by skills that would stun or knockback enemies, so I didn't use Rend really too much at all.
The other skill you'll have at level 8 is two defensive abilities, stomp and leap.  These are situational.  Leap to get away or leap into enemies and ground stomp to stun enemies so you can deal damage.  I've used Ground Stomp while leveling more than Leap but Leap has very good uses.
++ Skeleton King Fight on Normal
I used Cleave, Hammer of the Ancients, and Leap.  Cleave and Hammer of the Ancients helped kill the adds he spawned and Leap was to either get away to heal or get to the Skeleton King when he teleported.
- Levels 8-14
By level 14 you'll have access to some Runes.  Put Rupture (unlocked at level 9) on Cleave for your Primary.
Second skill you'll pick up Seismic Slam at level 12 which is great to knock back enemies if you get too many at once.  With Seismic slam don't forget you can hold shift down and right click your mouse anywhere on the screen and throw a Seismic slam in that direction without targetting anything.  You can do this for all abilities by holding shift as well but to hit stuff from a distance the ability has to make it the distance.  I primarily used Rend with Ravage Rune (unlocked at level 11) to increase Rend Damage.
My defensive skill I was still in the Leap era using Iron Impact Rune (unlocked at level 14).  You can also use Ground Stomp if you like to stun enemies or interrupt them.  All situational.
My Might Skill was set to Revenge which you get at level 13, you won't see me without this one much.  When you take hits it has a chance to become active and restores life when used.
For Tactics Skill I had Weapon Throw at level 14, it's the first skill you get and is more of a toy, I never used Weapon Throw for much of anything the entire first 60 levels.
Around level 14 you'll be beating Act 1 by fighting the Butcher.
++ The Butcher Fight on Normal
Cleave with Rupture, Rend with Ravage, Leap with Iron Impact, Revenge, and Weapon throw.  Passive skill was Ruthless.  Leap was very important for this fight because during the fight you'll want to get away from the fire and The Butcher in some areas.
I would suggest using Bash with either Clobber or Onslaught Runes or Frenzy instead.  At this point in the game I was still learning.  Revenge is great for heals.  The reason Rend is up instead of Hammer of the Ancients is because incase I needed to move I could Rend and do damage for 6 seconds after I left The Butcher.
* Act 2 Normal
- Levels 14-22
So you're still leveling and unlocking skills.  By level 19 you have a full hotbar and all 6 of your skills.  At level 20 you'll pick up your second passive skill.
My configuration for these levels was Frenzy, use whatever Rune until level 22 you use Triump.  I toyed around with Wirlwind as my secondary skill but you'd still want to use Rend and Seismic Slam when appropriate (damage over time or knockback enemies).  I found Whirlwind to be severely lacking especially at later levels and don't use it too much except for special circumstance.
Depending on what you're doing I typically keep Ground Stomp up with Wrenching Smash which pulls enemies closer so I can kill them.  Revenge is up with Vengeance is Mine (unlocked at 19) this is my favorite rune and one that stays with me until level 60 for this skill, rarely using any other Runes.
My Tactics skill is Battle Rage and I'm using Earthquake for Rage because it's the only Rage skill we have at this point.  Use it wherever you can it has a 2 minute cooldown.  My passive skills are Ruthless and at level 20 I'm using Weapons Master.
Around Level 22 you'll fight Belial to beat Act 2, it doesn't matter if you're below or above just in the general area, you'll find the game easier if you're higher.
++ Belial Fight on Normal
Ground stomp and Revenge are good for the adds that spawn on this fight.  Dont' forget this fight is in phases, so when you kill the first phase Belial comes down, he'll spawn adds during this time.  After you damage him more, he transforms and grows super huge and is stationery. He draws circles on the ground, of green fire, when he does that don't stand in them because he's telling you where he's going to strike.
He'll also drop his arms into the ground and spawn a bunch of green fire circles, you're job is to keep moving and avoiding them they will blow up.
Hit Revenge when it's ready, keep Battle Rage up and pound away.
* Act 3 Normal
- Levels 22-30
I'm still using my 1H / Shield setup.  I had played around with dual wielding and it was fun for regular enemies but for bosses I used the shield in this act.  This doesn't mean that dual wielding and 2 handed weapons aren't viable.  At this point in the game I didn't use the Auction House at all so I was stuck with what I had and this shield and 1h weapon were the best for me at this point.
My primary attack is still Frenzy with Rune of Triumph.  I found that with my other AoE Abilities it was no longer worth it to use Cleave.  This might not be true for anyone.  Frenzy with Rune of Triumph is one of my primary skills I use to 60.
My Secondary attack is Seismic Slam with Rune of Shattered Ground (unlocked at level 25).  This skill I still use with the same Rune in Hell Mode.  The Rune increases damage and knockback distance.  I use this to keep enemies off of me.  By holding shift, if you have enough rage, you can send these waves without moving toward your target.
Defensive I use Ignore Pain for bosses and hard areas with Rune of Bravado (unlocked at level 26) or I use Ground Stomp with Trembling Stomp Rune (unlocked at level 28).  I no longer really make use of Leap unless I use it to get away from a boss or group of enemies so I don't die, and I never really used Sprint at all.
My Might skill is still Revenge with Rune of Vengeance is Mine, this will rarely change throughout guide.
Tactics I'm still using Battle Rage with Rune of Marauder's Rage (unlocked at level 26).  If you have problems.  If I played co-op or needed extra armor I used War Cry.  If I was looking to debuff enemies it was Threatening Shout with Rune of Falter (unlocked at 28).  Sometimes I use Threatening Shout when I'm going into really hard areas.
For your rage skills you'll get Call of the Ancients at level 25, but the big one is at level 30, Wrath of the Berserker.  I've used both, I prefer Wrath of the Berserker because it enhances my damage.  I've oftentimes burned bosses down within a very short period of time using Wrath of the Berserker.
My 2 passive skills are Bloodthirst (unlocked at level 24) and Ruthless.
Around level 30 you'll be ending Act 3 and fighting Azmodan.
++ Azmodan Fight on Normal
In this fight a few things happen.  First he'll summon a fireball that will hit the ground.  When the fireball is in the air just start running and it won't land on you.  If it lands on you move out of it.  Next he'll summon portals which will bring adds.  After that he'll summon big black areas on the ground and say the dark power of hell will consume you, just run away from them.  He'll also drop dead bodies on your head don't stand in those either.
Other than that, you hit him with Frenzy, use Ignore Pain when it's up, Keep Battle Rage going, and use Revenge when it's available to heal yourself.  Wrath of the Berserker is really great and damaging him down quickly.
* Act 4 Normal
- Levels 30-32 
Some people beat the game around level 30, it doesn't matter, these are just typical ranges here to explain.
This is a short act full of a lot of bosses.  Some of them people will find down right impossible.  I also decided I was going to stop being a baby and try out a nice 2 Hander I had found in game.  Same skill setup and abilities.  You'll see videos of me creaming big bosses in short periods of time with a 2 hander below.
All of my skills I used are exactly the same except I made some use of Whirlwind in this act.  Here are the changes from the skills I was using in act 3.
The main thing is we got a new passive skill at level 30.  I would have been using Ruthless, Bloodthirst, and Animosity for this act.  Animosity you get at level 30 and increases your Fury generation by 10% and gives you 20 more maximum fury.
For my defensive skill, Ignore Pain would now use the Rune of Iron Hide (unlocked at level 31) which increases Ignore Pain's duration.
If I was using Warcry for Tactics it would have Rune of Hardened Wrath (unlocked at level 32) which increases the Armor Bonus.  But for most boss fights I still used Battle Rage
And that's it, I mainly ran around with the same setup, Frenzy, Seismic Slam (swapped Whirlwind in for some boss fights just so I can go through things and get away, Ignore Pain, Revenge, Battle Rage, and Wrath of the Berserker with the 3 passive skills above.
So let's get to some video action here then!
++ Iskatu Fight on Normal
One of the first fights you'll run into is this guy.  Some people try to kite his adds and do all this fancy stuff, what I did was got a nice 2 hander and went frenzy mode on him.  He dies in about 20 seconds.
I pop ignore pain with the adds, Revenge becomes active from me being hit and I spam that which heals me and kills stuff around, then I pop Wrath of the Berserker when available and just destroy Iskatu.
++ Rakanoth Fight on Normal
Again with the 2 hander this fight can be tough as well, but with Frenzy and 2 Hander I got him down in under 50 seconds.  Same strategy as above.  He will spawn adds they just fall over when you pop Revenge to heal yourself.  Initiate Wrath of the Berserker and it's game over.  Keep Ignore Pain down and you're set.
++ Izual Fight on Normal
For Izual I had tried the 2 hander strategy but it wasn't working so I switched back to the 1h sword and shield, this allowed me to stay alive a bit longer.  The fight is still 35 seconds but there's a bit more going on here.   When the adds spawn you'll see me using Whirlwind.  This is so I can go through them.  I'm also using Whirlwind to travel away from the ice that spawns on the ground.  You can use Leap instead if you prefer.  Other than those small changes, I'm still using Revenge, Ignore Pain, and Wrath of the Berserker.  You need to be careful of the ice for sure.
++ Diablo Fight on Normal
A friend of mine joined me for this fight so I have my shield on to try to tank Diablo some.  There are healing wells on the east and west side that you can use if your health is low.  Stay out of the fire on the ground.  The multi-shot fire doesn't do too much damage.  He'll spawn cages on the ground of bone, don't stand in those or he'll end up picking you up once you're captured.
Once you get him down he'll spawn you into hell and you'll fight clones of yourself.  These can be hard so be careful make sure you have potions available.  The next phase he'll port you back up to Heaven and you'll finish the fight there.
he has a lightning type flame he'll spray out in a half circle too, I never noticed it doing much damage but if you can avoid it, then do it.  Yes I died in this video, I was being brave. It won't be the first video I've died in.  So I'll use it to stress the importance of co-op.  In co-op a player can resurrect you by clicking on your stack of bones.
Congratulations you beat the game, after this the game repeats exactly the same except it gets harder, the loot gets better, and you get more skills.
*  Act 1 Nightmare
-  Levels 32-36
The level range is just what I was when I went through, if you start Nightmare at a later level you'll be higher than 36 by the time you get to the end of Act 1. By around level 36 you'll be fighting The Butcher to head to Act 2.
The major things happening between level 32-36 that affected me leveling was a Rune was Added to Wrath of the Berserker that gave a knockback when activated.  I don't know how useful this really was but it was the first rune for it, I can't say I kept it on that for very long after I got another rune.  The other cool thing you pick up is Ancient Spear in the Might skill gets Rune of Dread Spear at level 32 which gains life equal to 60% of the damage you inflict with Ancient Spear.  I've used Ancient Spear for many boss fights to help with health before.
Other than that you get a new passive skill at 35 that increases Damage of Ancient Spear and Weapon through, that I've never used at all while leveling.  Frenzy gets a rune that increases movement speed at level 34, I've ran around with that one for awhile but Triumph is still best.  Rend gets a damage boost via a rune.  Seismic Slam gets a damage increase, but I still use Shattered Ground Rune instead.  Revenge gets a damage increase via a Rune but I still use Vengeance is Mine.
When I started out in Act 1 Nightmare my configuration was a bit different than when I ended Act 1.  I went into the Skeleton King at level 32 with Ignore Pain, Revenge, Battle Rage, Wrath of the Berserker, Frenzy, and Whirlwind.  You can see that fight below.
++ Skeleton King Fight on Nightmare
Here I'm using Ignore Pain to absorb damage, Revenge is up for life restoration, Battle Rage to do extra damage, Wrath of the Berserker to cream stuff, Frenzy which also provides damage and healing, and Whirlwind which I used on the adds.  I also have a 2 hand setup and my survivability is low as you can see I died during this fight with a friend.
By the time I'm fighting The Butcher at level 36 my setup has changed again.  But this is also common on a fight by fight basis.
++ The Butcher Fight on Nightmare
As you can see I'm  back to a 1h weapon and shield setup so I live somewhat long.  I have Ground Stomp in place just to stun him to buy us more damage time.  I still have Revenge up for healing.  War Cry is up to help us live longer.  Wrath of the Berserker, Frenzy, and Seismic Slam which I used occasionally as a long range attack when I couldn't be close enough to melee.
* Act 2 Nightmare
- Levels 36-42
I continued through Act 2 with the 1h weapon and a shield but by the time I got to level 42 to face Belial I was back to a 2 handed weapon.
++ Important New Skills
Another interesting addition comes from Battle Rage which picks up Rune of Swords to Ploughshares.  This causes your critical hits on enemies to have a 5% chance for them to drop an additional health globe.  I thought this would be super awesome and tried it out, but I wasn't all that impressed.  It didn't seem like a reliable source of health restoration.
War Cry picks up Rune of Invigorate at level 41 this increases Maximum Life by 10% and regenerates 310 life per second.  This is one of the primary runes I used with War Cry to level to 60 and still use it at 60.
Wrath of the Berserker gets an ability you'll probably leave up for the rest of your leveling at level 40 you pick up Rune of Insanity which increases damage by 100%.
The big one, Ignore Pain picks up Ignorance is Bliss at level 36 which lets you gain 20% of all damage as life.  This one is huge.  I use this one even at 60 still.
Another highlight is Whirlwind gets Blood Funnel Rune at level 37 which restores 1% of your maximum life every crit with whirlwind.  This has limited use, but I did use it occasionally to restore health.  It's definitely not like Whirlwind was in D2.
++ Other Skills
You'll get one new passive skill during this time, Relentless at level 40.  It has limited use, I like it for boss fights sometimes where I know I'll be dropped below 20% health, otherwise it's completely useless to have on.
Hammer of the Ancients gets a new rune which I actually used while leveling through Act 2.  Rune of Thunderstrike unlocked at level 39 which stuns all enemies within 10 yards of where you kill an enemy with it.  This simply was magical as it's never good to be getting hit, I spent most of my time keeping enemies locked up with stun or pushed away.
One addition you'll find interesting and possibly helpful but doesn't have all that much to do with aiding you in combat is Threatening Shout picks up Rune of Grim Harvest at 37.  This increases all effected enemies to drop treasure by 15% more.  So this is something you'd keep up to farm.
++ Magdha Fight on Nightmare
I'm in this fight with a 1h / shield setup.  I have Ignore Pain, Revenge, War Cry, Wrath of the Berserker, Frenzy, and Whirlwind.  Yes I even use Whirlwind in this one for adds.
You can see how much of an utter waste it probably is because the damage from just the 1 handed weapon is so low.
++ Belial Fight on Nightmare
By the time I got to Belial at level 42, I was by myself soloing again.  I swapped to a 2 Handed weapon again.  My skills are Ignore Pain, Revenge, Battle Rage, Wrath of the Berserker, Frezy, and Hammer of the Ancients.
I was setup to kill the boss as fast as possible basically to burn him out.
* Act 3 Nightmare
- Levels 42-47
In this act I had acquired a really awesome 2 Handed Weapon and I went through the entire act with it on just pummeling the crap out of everything.  I will tell you first hand that a single weapon can make all the difference.
++ Other Skills
Sprint picks up Rune of Gangway at level 46 which slams through enemies and knocks them back causing 25% weapon damage.  I never used Sprint.
Overpower picks up Rune of Crushing Advance at level 42 which reflects 30% of incoming damage for 4 seconds.  This helps mitigate some damage coming in.
Ignore Pain picks up Rune of Mob Rule which extends ignore pain to your allies.
Threatening Shout gets Rune of Demoralize at level 43 which taunts enemies into attacking you, great for tanking.
You pick up the passive skill Brawler which increases your damage by 30% if there are 3 or more enemies within an 8 yard radius.
Overall just not a very exciting range of levels for me as far as skills went so I used much of the same skills in Act 3.
++ Ghom Fight on Nightmare
Ignore Pain, Revenge, Battle Rage, Wrath of the Berserker, Frenzy Hammer of the Ancients.  Run in pop Wrath of Berserker as soon as I can and beat the crap out of the mob with my 2 hander.  I moved out of some of the poison clouds a bit but it was quick kill.
++ Azmodan Fight on Nightmare
I called this video the quickest Azmodan kill ever.  It's probably not the fastest for players who come back and kill him but for someone who's just doing him for the first time it's pretty fast, took less than a minute.
I still have my 2hander on with Ignore Pain, Revenge, Battle Rage, Wrath of the Berserker, Frenzy, and Hammer of the Ancients.
Similar strategy as Ghom except I moved away from his dead bodies, his fire balls, and his hell bubbles on the ground, at least sometimes I did.  With the 2 hander and all the life leach and abilities sometimes its possible to just stand in the damage and still gain life.
*  Act 4 Nightmare
- Levels 47-50
I used my 2 Hand setup for all of Act 4 but after Rakanoth I had acquired an even better 2 hander than the already ridiculous one I thought I had.
There were no important or significant skill gains for me in this level range.
++ Other Skills
War Cry gets Rune of Veteran's Warning at level 49 which grants 15% bonus to dodge.  I still use Invigorate though.
Gain Passive Skill of Juggernaught which reduces control impairing effects by 20% and gives you a chance to recover 15% of your health when you are put under any of these effects.
++ Iskatu Fight on Nightmare
Ignore Pain, Revenge, Battle Rage, Wrath of the Berserker, Frenzy, Hammer of the Ancients.  Same setup still and same strategy, burn him down.  Very fast kill.
++  Rakanoth Fight on Nightmare
Same setup and strategy as above except Rakanoth died even faster.  Under 30 seconds to be exact.
++ Izual Fight on Nightmare
You can see I have a new 2 handed weapon now in this one that does even more damage.  This time the skill configuration though is a bit more unique.
Here you see Leap, Overpower, War Cry, Call of the Ancients, Frenzy, and Seismic Slam.
The kill is also not as fast because I was unable to burn him down I actually had to use some skills.  Leap is there to get away from the Froze orbs on the ground before they go off, this is instant death just about if it happens to you.  War Cry to make me live longer.  Call of the Ancients to distract the enemies so I can get away.  Seismic Slam to range attack them and keep them back.  More interesting video, check it out.
++ Diablo Fight on Nightmare
This fight is also uniquely configured. You'll find Ignore Pain, Ancient Spear, War Cry, Wrath of the Berserker, Frenzy, and Whirlwind this time.
Ancient Spear is being used to range heal and to heal up close.  All other skills you're familiar with.  Whirlwind is being used for mobility and life restoration.
* Act 1 Hell
- Levels 50-53
Congratulations you made it to hell.  Stuff is about to get intense.  Now more than ever you will want that best weapon off the auction house and any other upgrades you can afford.  As you progress from 50-60 the difference in gear stats is astronomical.
For almost all of Act 1 I'm running around with a new 2 handed sword I purchased that has over 400 damage on it.  I spent most of Hell trying out co-op mode so I'll be playing with other players in videos.  This wasn't because I needed to in order to beat these areas, I was getting bored with running through the same content over and over again by myself.
++ Important New Skills
Frenzy picks up Rune of Smite at level 51.  This is an awesome rune that I commonly use for fighting bosses and elite packs of enemies.  It gives you a 20% chance to stun a target for 1.5 seconds.  With how fast you can hit with Frenzy it makes it so you're always interrupting or stunning the enemy you are fighting.
Revenge picks up Rune of Provocation at level 52.  This is super important and it is the primary Rune you'll use from here on out.  It gives you a 30% greater chance for Revenge to become more active.
++ Other Skills
The only one worth mentioning is Hammer of the Ancients picks up Rune of Birthright at level 53 which gives a 10% chance on critical hit for enemies to drop treasure or health globes.
++ The Skeleton King Fight on Hell
My skills for this fight are Ground Stomp, Ancient Spear, War Cry, Wrath of the Berserker, Frenzy, and Seismic Slam.
You've already seen this fight several times in other modes it's not really any different.  War Cry is up for my companions, Ancient Spear is up to heal me from range, Frenzy is main attack, and Wrath of Berserker to just dominate.  I use Seismic Slam to attack at range or to push back adds as they spawn.
Queen Arenaea Fight on Hell
Skill set is Ground Stomp, Revenge, War Cry, Wrath of the Berserker, Frenzy, and Seismic Slam.  I wanted to post in this fight so you can see some different action going on instead of the regular stuff I post for fights in Act 1.  Just watch out for poison circles on ground in this fight.  Adds spawn but they are easy to deal with, use Seismic Slam to keep them away from the people doing damage and you'll destroy them.
* Act 2 Hell
- Levels 53-57
For Act 2 I bought a 1 hander that was about 300 and something for damage, it ended up being close to my 2 hander so I put a shield on and ran around like this for awhile.
++ Other Skills
Ground Stomp picks up Rune of Avalanche which knocks enemies back.
Weapon Throw gets Rune of Dread Bomb for AoE damage.
Threatening Shout picks up Rune of Terrify which causes enemies to flee.  This is one I've used when I needed the enemies to be away from me to recover.
Battle Rage picks up Rune of Bloodshed which makes your crit explode and cause damage to other enemies.
You pick up the passive skill of Unforgiving which stops your fury from degenerating and makes you gain 1 fury every 2 seconds instead.
++ Belial Fight on Hell
My skill setup is Ignore Pain, Revenge, Threatening Shout (to make adds flee), Wrath of the Berserker, Frenzy, and Seismic Slam.  I found the adds hit really hard for some reason even with a protection setup so I didn't try to fight more than one or two at a time or it seemed like I would have died.
* Act 3 Hell
- Levels 57-59
In all of Act 3 Hell I'm running around with a 1h sword and a shield still.  At this point my gear is so poor that I'm doing everything I can to stay alive.  About half of my items are from the 40s and I didn't even use my own auction house advice to upgrade them, so I suffered through this act undergeared.
++  Important Skills
Frenzy picks up Rune of Maniac at level 59 which increases damage by4 % for each Frenzy effect.
Overpower picks up Rune of Revel which restores 8% of your maximum life for every enemy hit.
++ Other Skills
Whirlwind picks up Rune of Volcanic Eruption at level 59 which leaves magma all over the place causing fire damage.
Ignore Pain picks up Rune of Contempt for Weakness which redirects 50% of ignored damage back at enemies.
++ Azmodan Fight on Hell
Ignore Pain, Ancient Spear, War Cry, Wrath of the Berserker, Frenzy, and Seismic Slam.  Ancient Spear is in place to do a ranged heal.  The fight is the same just things do more damage so you have to be aware of the game mechanics or you'll go down faster.
* Act 4 Hell
- Levels 59-60
You may have hit level 60 already or you maybe didn't, it doesn't matter.  Before you go into Inferno you'll need to be level 60 and you'll probably get it in this act for sure.  If you're level 60 now is definitely the time to go to the Auction House and grab those level 60 weapons.  I upgraded to a 1 hander that had over 600 damage and a 2 hander that was around 800 damage for very cheap.
Personally there aren't really too many things added that will help you out as far as skills.  You get a new passive skill to reduce the cool down on your Rage skills but honestly unless you're going to be in elective mode and be using all three, I've rarely found a time when this was helpful on a boss fight, maybe it's better for farming.
I'm still using a 1 handed weapon and shield.  You'll see below in the fights how much that weapon upgrade helped, I doubled my damage with it.
++ Iskatu Fight on Hell
I killed him in under 30 seconds of fight time with a 1 handed weapon.  This makes it easier than trying to have any strategy.
My passive skills are set defensively: Nerves of Steel, Tough as Nails, and Blood Thirst.
I have Frenzy, Seismic Slam, Ground Stomp, Revenge, Threatening Shout, and Wrath of the Berserker up.
Notice how I mainly stay alive because of Rune of Provocation on Revenge that allows it to keep popping up so I can heal myself.
++ Rakanoth Fight on Hell
On this fight with a similar setup I was able to burn Rakanoth down in 36 seconds.
I have Ignore Pain, Revenge, Battle Rage, Wrath of the Berserker, Frenzy, and Rend up (for extra healing).
++ Diablo Fight on Hell
I'm going to let you figure this fight out since it's the last time you'll probably beat Diablo until they make Inferno easier.  But I'll give you some hints to this fight.  First off, you'll need as much healing abilities up as possible, doing damage isn't going to help you in this fight as much because there are so many phases.  You're going to need to be able to handle your clone when you're ported to Hell.  He's going to be stronger than you and be able to take you 1 on 1 if it was a straight fight.  You'll need to keep him stunned or occupied and yourself healed.
The next thing to do is to fight Diablo in Heaven near the two healing wells and keep alternating.  You need to avoid some of his attacks in Hell or you'll lose life too fast.
If you can't beat him and you've already upgraded off the auction house; I would recommend trying Elective Mode, but it's just going to be probably too easy at that point when you can fill your hotbar with 5-6 abilities that heal.
* Inferno
Inferno is done all on level 60.  I don't have specific strategy up for Inferno since this guide focused on just leveling to 60, but just note, it's going to be fun and challenging.
Important: If you want to learn the best ways to make gold I highly recommend you visit this site to learn how to maximize your farming, increase your gold making with your professions, and learn the secrets to making 5,000+ gold an hour.