Cataclysm Warlock Talent Builds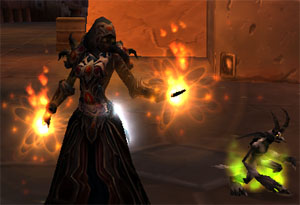 Warlocks are known for their high raid damage and utility. They have the ability to control minions, fear enemies, and have one of the most powerful AoE abilities in the game that makes even mages cry. In ancient times before summoning stones, Warlocks could summon group members and allies to far away places saving them the 4 and a half hour gryphon flight / boat ride. In some cases with demons and elementals they can be useful with crowd control.
If your guild's Warlock is not coming close to, or reaching, the top of damage meters on most fights (except against cheating Shadow Priests), they probably need some help! Below are some community submitted Warlock builds to help you master your Warlock.