Cooking Quests
There are 5 Dalaran Cooking Quests given by your faction's Cooking Trainer in Dalaran (located in each faction's Inn.) You will be able to do 1 of these quests (randomly selected) every day to earn Dalaran Cooking Awards and various types of spices. You can use the Dalaran Cooking Awards to purchase Cooking recipes which are significantly better than those learned at the trainer.
For example, instead of making Shoveltusk Steak, you can make Tender Shoveltusk Steak. The spices that you earn, and can buy with Dalaran Cooking Awards are needed in all of the higher tier Wrath recipes.
Sewer Stew
Cook 4 Crystalsong Carrots from Crystalsong Forest with 4 Chilled Meat in the Cookpot.

Once it is ready bring the Vegetable Stew to the Dalaran sewers Innkeeper Ajay Green.
This quest requires 4x Chilled Meat and 4x Crystalsong Carrots
The Carrots can be found directly under and to the southeast of Dalaran. This quest is turned in at Ajay Green in the Underbelly.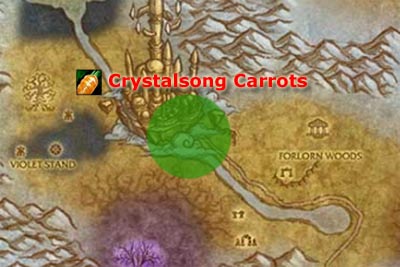 Infused Mushroom Meatloaf
Cook 4 Infused Mushrooms from the Dalaran sewers with 2 Chilled Meats in your Meatloaf Pan and bring them to Orton Bennet in Curiosities & Moore located in Runeweaver Square in Dalaran.
This quest requires 2x Chilled Meat and 4x Infused Mushrooms. The Mushrooms can be found below Dalaran, in the Underbelly. The quest is turned in at Orton Bennet on the surface.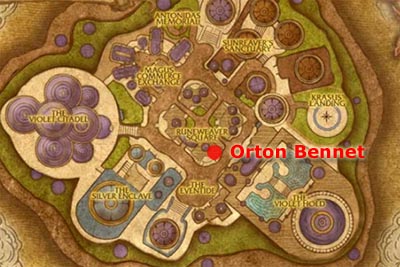 Convention at the Legerdemain
Bring 4 Northern Stew that you use your cooking skill to make and a Jug of Wine from the cheese shop in Dalaran to Arille Azuregaze at the Legerdemain Lounge found in Runeweaver Square in Dalaran.
For this quest you must have previously learned Northern Stew from either Brom Brewbaster (Valgarde, Howling Fjord) or Thomas Kolichio (Vengeance Landing.) You'll need 4 Chilled Meat and a Jug of Wine (found in the cheese shop shown below). This quest is turned in at Arille Azuregaze.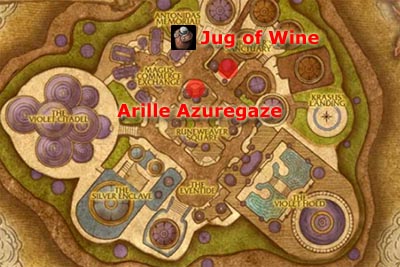 Cheese for Glowergold
Combine the empty cheese platter with Aged Dalaran Limburger from the cheese shop "One More Glass" and with 6 Half Full Dalaran Wine Glasses found on tables around Dalaran.

Bring the Wine and Cheese platter to Ranid Glowergold at the Leatherworkers in the Magus Commerce Exchange.
This quest requires that you find 6 Half Full Dalaran Wine Glasses and combine them with Aged Dalaran Limburger and turn them in to Ranid Glowergold. All and more in the map below.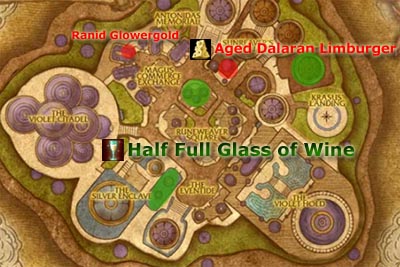 Mustard Dogs!
Fill the Empty Picnic Basket with 4 Rhino Dogs that you cook with your cooking skill and 4 Wild Mustard that you find in the grassy areas of Dalaran.

Bring the Picnic Basket to Archmage Pentarus at Krasus' Landing in Dalaran.
For this quest you will need 4x Rhino Meat, and 4x Wild Mustard. Combine them, and turn the quest in on the flight pad in Dalaran at Archmage Pentarus.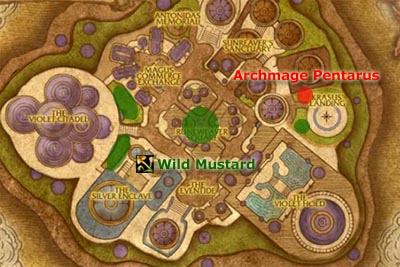 Rhino Meat can be farmed in The Storm Peaks.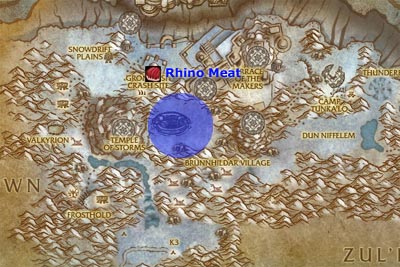 If you see something wrong or have feedback for this guide send an email to: webmaster[at]almostgaming.com